204 E House St, Alvin TX, 77511 | P: 281-519-7030 | F: 281-968-7230 | Mon-Fri: 9:15am-6pm | Sat: 9:15am-12pm | Sun: Closed | Closed Last Saturday of The Month
Sign Up For Our Newsletter
Stay up to speed with our latest promotions, special deals, and announcements by signing up for our free e-newsletter.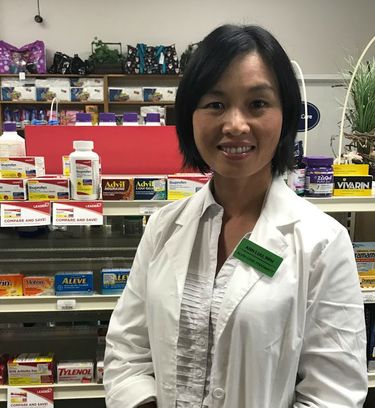 Meet Your Pharmacist
Ann Luu attended University of Houston College of Pharmacy and graduated in 1996. From the very beginning of her career, she chose to be a retail pharmacist because of her passion for caring and connecting with patients
Having personally experienced the role of a caretaker by supporting her mother through cancer treatments and her mother-in-law's challenges with Alzheimer's and stroke, Ann understands firsthand the important and sensitive role that pharmacists play in caregiving. That is why Ann provides exceptional care to her patients, and ensures her patients' pharmacy experience is as easy and convenient as possible. Through her functional medicine training and facing her own health challenges, she understands that true health and wellness involves the systems of mind, body, spirit, and their interconnectedness. Ann believes in caring for the body as a cohesive unit, recognizing its incredible ability to heal itself. From someone who is in remission of Hashimoto's thyroiditis and fibromyalgia for over 8 years, she believes the human body is extremely amazing; we give the body the nutrition and the tools it needs, and it will protect and heal itself.
Ann's ultimate goal is to help her patients regain optimal health swiftly, allowing them to fully enjoy life. Alongside her husband of 26 years, Tim, she takes pride in raising three active sons and caring for their lively blind chihuahua girl. During her free time, Ann enjoys taking walks with her husband, doing yoga, meditations and taking classes on nutrition, wellness, and pharmacy to continuously enhance her knowledge.
Shape Reclaim with Ann
SHAPE Program = SHAPE Drops + SHAPE Nutrition Protocol

Are you experiencing sluggish energy and weight gain? Ann specializes in helping women over 40 regain energy and shed excess weight through a comprehensive program called Shape ReClaimed. By focusing on real food and health foundations, reducing inflammation, supporting cleansing processes, and boosting the immune system, the end result is less pain, more energy and shedding excess weight. Her approach emphasizes minimizing factors that are harmful to the body, maximizing essential nutrients, and prioritizing an environment that supports the body's thriving. Through her guidance, clients are empowered to cultivate wholeness and become the best version of themselves.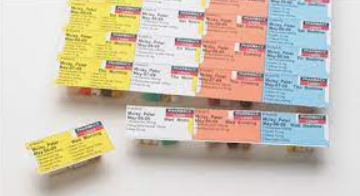 How can Alvin Care be of service
We offer:
COMPOUNDING- such as low dose naltrexone, pain cream, anti-aging cream
DME Rentals and sales-wheelchair, knee scooter, rollator
DISPILL BLISTER PACKS AND SINGLE BLISTER PACK
SPECIALTY VITAMINS AND NATIONAL BRAND VITAMINS
Testimonials
See what people have to say about Alvin Care Pharmacy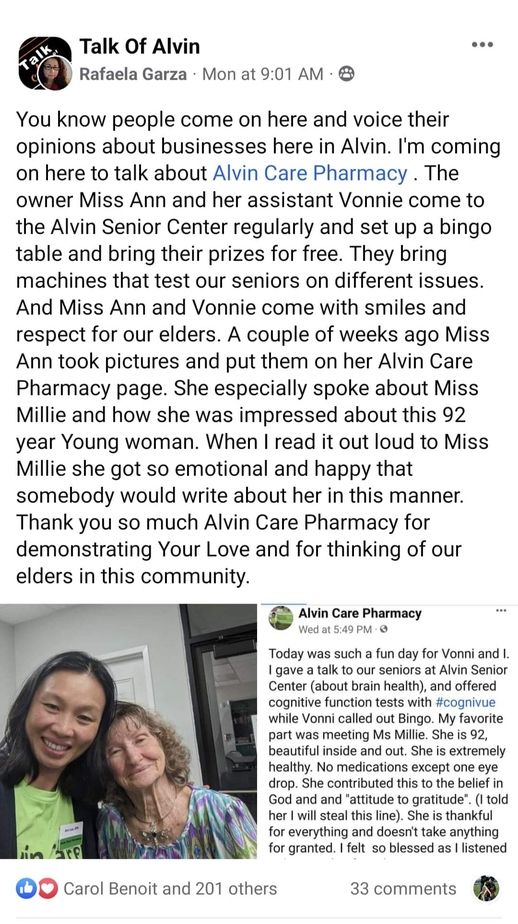 Reminders
Set reminders to take your medications.

Refill On-The-Go
Refill your medications 24/7 without logging in.

User Profiles
Safely store and manage your list of prescriptions.

Delivery Options
Request a refill and delivery with a single click.